There's only one Martinique
One island blessed with a wide assortment of fragrant and exotic flora it's known as The Isle of Flowers.
One home of majestic Mount Pelée, our towering volcano, and the historic city of Saint-Pierre, The Pompeii of the Caribbean.
One shoreline with beaches of every natural hue, from the silver-grey volcanic sands in the north to the brilliant white shores of Les Salines in the south.
One producer of the world's finest rhum agricole, so confirmed by the coveted AOC designation on every label of our rums.
One Culinary Capital of the Caribbean offering traditional French fare and our own unique Creole cuisine, a superb blend of flavors from Africa, the Caribbean, and India.
One place where the generosity and the warmth of its people make you feel at home away from home.
One place where zouk is the music, bèlè a rhythm, Colombo a delicious spicy dish.
One place where you can experience Carnival on land and at sea, our colorful Tour des Yoles boat race taking all the fun and pageantry of Mardi Gras to the waters encircling Martinique.
Breathtaking natural beauty; hotels, villas, and Creole residences to suit every style of travel; pulsating authenticity, traditions and culture; magnificent protected hiking trails, intriguing mangrove tours, and canyoning adventures; world-famous surfing, stand-up paddle boarding, bill fishing, and every other conceivable water sport or just relaxing on the beach…
Martinique is truly one place that has it all!
We look forward to welcoming you soon to experience everything that Martinique has to offer!
À bientôt, Nou ké konten wè zot !
Must see in Martinique
A paradise for seabirds, and an exceptional diving spot, this rocky outcrop in the middle of the Caribbean Sea has lived an eventful history.
Diamond Rock
Fine sand, coconut trees, turquoise water… Salines beach is one of the most beautiful beaches in the Lesser Antilles. It epitomizes postcard-perfect Martinique.
Les salines
Réserve Biologique Intégrale" (nature protected area), this world famous volcano on clear days offers a magnificent panoramic view of the Atlantic Ocean and the Caribbean Sea.
Mount Pelée
CARAVELLE PENINSULA
Dry forest, thickets, mangrove, savannah, sheltered bays and steep cliffs of the Caravelle peninsula, a classified natural reserve, offers an environnement ideal for the development of many native species.
Our favorites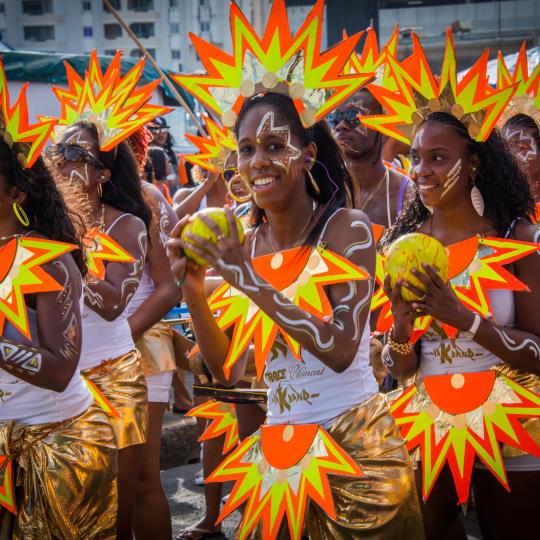 CARNAVAL DE MARTINIQUE
From 03/03/2019 to 06/03/2019
Martinique Carnival stands out by its creative spontaneity coming from its popular essence....